Wilson Winter Wonderland
December 22 @ 6:00 pm

-

8:00 pm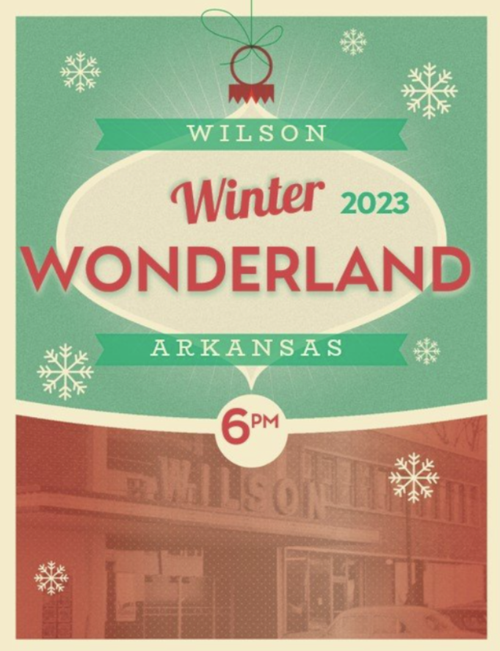 Experience the final spectacle of the enchanting Wilson Winter Wonderland. The magical holiday light extravaganza adorned with over 500,000 dazzling lights will continue through to New Yea's Day, but tonight is the final show with Santa and Mrs. Claus before they depart for the North Pole.
( If you missed the shows this season, be sure to attend in 2024 as we will begin on Black Friday with more delights and surprises. )
Tonight's immersive spectacle is choreographed to a captivating music playlist, featuring timeless holiday classics and the comforting voices of influential musicians from right here in Arkansas.
Witness eight larger-than-life trees, each adorned with tens of thousands of lights, illuminating the sky in a symphony of colors.  Be amazed by the grandeur of our one of a kind 65-foot-tall walk-through welcome tree, inviting everyone to enter a world of wonder and joy.
Embark on an unforgettable journey through our four different walking tunnels, stretching an impressive 200 feet through the town square. These tunnels will lead you through immersive light displays, taking you on a adventure of lights, sounds, multiple colors .
Feel the magic of winter come alive with six different Snow Machines, creating a gentle snowfall that will transport you to a true winter paradise. Let the snowflakes dance around you, adding to the enchantment of the holiday season.
All of these wonders combined together to the Sounds of the Season, creating a harmonious symphony that will warm your heart and fill you with holiday cheer.  Feel the magic of the holidays come alive with every step.
Meet Santa himself, as he graces Wilson one final time this year to illuminate the night and create cherished memories with your little ones. Warm up with a cup of hot chocolate, adding that extra touch of holiday delight.
Santa and Mrs. Claus will take pictures and listen to wish lists one last time until 8pm.  For all, there's hot cocoa and cookies to savor, while adults can indulge in a selection of cocktails.
Wilson Winter Wonderland is where dreams come to life, and joy fills the air. Join us for an unforgettable holiday show! Admission is free, and the event promises to be the highlight of the holiday season for everyone.
The Louis Hotel is accepting room reservations throughout the rest of the year and into 2024.  The Wilson Café is open for dinner, serving hot soups, a full menu, liquor, wine and beer and arrive early or spend the night and visit the Grange which is open for breakfast and lunch with all of your favorite, made-fresh-daily holiday pies!
Additional FAQs
Do I walk through the light show or drive?
The best way to participate is to walk through the wonderland, it's fully immersible!
How long does it take to experience the show?
Each show begins on the hour and will have fantastic custom designed light shows.  The show is roughly thirty minutes long.
Is Wilson Winter Wonderland open even if it snows or rains?
Yes! The event will be open even in the rain and because we make it snow every Friday night, we could never close the show!   Of course, if Old Man Winter is severe enough to be a safety risk for our guests and staff, an inclement weather closure announcement will be made on our socials.
Are pets allowed?
We are always friendly to friendly pets in Wilson Winter Wonderland